Family Reunion
News & Information
---
[ Home ] [ Address Book ] [ Birthdays/Anniversaries ] [ Debbie's Quilts ] [ Family Reunion Photos ] [ Family News] [ Family Tree ] [ Flower Girls ] [ Guestbook ] [ Links ] [ Mini Reunions ] [ Misc Photos ] [ New Babies ] [ Old Photos ] [ Reunion News ] [ Sirney History ] [ Svetlana ]
---
**Please check back from time to time for new updates.**
---
---
2017 Sirney Summer Camp
Here is the information needed to attend the reunion next year.
**Please Note**
We have already booked all of the cabins at Kohl's Ranch Lodge except for one of the 2 bedroom cabins. There are still studios available, but these only sleep 2 people. However, we still have plenty of accommodations for more than 2 people at Christopher Creek Lodge. If you only have 2 people in your party, please book a studio at Kohl's Ranch so that we can leave plenty of availability for families with more than 2 people.
Again, Christopher Creek Lodge is just a few miles up the road and offers very nice accommodations in a lovely setting along the creek. We hope that this does not seem like an inconvenience to anyone. These rooms will really just be for sleeping and we can all be together during the day at Kohl's Ranch. I have attached a few pictures of Christopher Creek Lodge.
Provided below is all of the information that you should need to begin booking your accommodations for Sirney Summer Camp. Again, our main location for activities and meals will be Kohl's Ranch Lodge, with additional lodging at nearby Christopher Creek Lodge. Our group rates are valid for the nights of Thurs June 22- Sun. June 25th. If you would like to stay additional nights, please let me know and I will see about getting you the group rate for those nights as well.
I would advise making your reservations early. Both lodges do allow for cancellations- up until 48 hours ahead of time at Kohl's Ranch and 30 days ahead at Christopher Creek (if cancelled between 15-29 days ahead of time, you can receive a refund minus a 10% fee. no cancellations within 15 days of arrival).
For flight arrangements, you will want to fly into Phoenix Sky Harbor Airport. From there, it is around an hour and forty five minute drive. Depending on where you are flying in from, you may also want to look at flights on Allegiant Air into Phoenix-Mesa Gateway Airport.
We are planning group meals for Friday and Saturday night dinner, a picnic lunch on Saturday, as well as a brunch on Sunday. Saturday will be a fun day of games & activities for both kids and adults, as well as lots of time to visit and reconnect. For that reason, I would recommend planning other excursions for before you arrive on Friday or after leaving on Sunday. There are ideas for other things you may want to check out in the area on this site - http://www.paysonrimcountry.com/top-35-things-to-do.
Booking Info for Kohl's Ranch Lodge (the easiest way to book is using the online link):
Studio Guest Rooms
Located in the main building. All units
have a small refrigerator, coffee maker,
and microwave. Sleeps 2. $108 per night
*

Please provide your guests the following ways to start booking their reservations today

:

1) Personalized booking link: https://www.diamondresortsandhotels.com/?MKC=GSIRFAM17

2) Reservation Department: 1-800-438-2929

3) E-mail: Groups@diamondresorts.com

For reference:

Property: Kohlís Ranch Lodge

Your Group Name is: Sirney Family Reunion

For reference:

Property: Kohlís Ranch Lodge

Your Group Name is: Sirney Family Reunion

Your Block Code is: GSIRFAM17

Cutoff date: 5/22/17

*Quoted rates do not include 6.325% tax, daily resort fee of $10+tax or the $100 refundable incidental deposit (collected at check-in)
It is imperative that you take a moment and share all of the below policies and information with your group guests.
Group Concessions
Check-in is at 4pm and check-out is at 10am. If any guest requires a guaranteed early check in, they must also book the day before their expected arrival
48 Hour Cancellation Policy: We must be contacted 48 hours prior to your scheduled arrival to cancel or modify your reservation to avoid a first nightís room and tax penalty
No deposit is required; full payment is due at check in
Each guest room is required to have one adult (21 years of age or older) check-in and occupy the room throughout entire stay. They are also required to present a credit card and ID upon arrival
Any special request you may have will be noted to your reservation but cannot be guaranteed
Daily housekeeping is not available; however, towels and tidies are available upon request at the front desk
Any unused group inventory will be released on cutoff date 5/22/17. After this date, reservations are subject to availability. If available, we will continue to honor the group discounted group rates
Booking info for Christopher Creek Lodge:
Rooms may only be booked by calling the reservation line at 928-478-4300 and state that you are with the Sirney Family Reunion.
Motel-Style Rooms
Sleeps 4. Queen bed downstairs and
two twin beds in the loft. No kitchen
amenities except for a coffee maker.
$89.99 per night.
Fishermanís Cabins on the Creek
Sleeps 6. All units have a kitchen and
fireplace. Queen bed downstairs, 4
twin beds in loft. $159.99 per night.
Pioneer's Cabins on the Creek
Sleeps 6. All units have a kitchen and
fireplace. King bed downstairs, 4 twin
beds in loft. $179.99 per night.
Please let me know if you have any questions on anything. Cheryl would be happy to help!
---
June, 2015
As you know we have an Air & Space Museum Tour planned for Saturday morning at the reunion. The Udvar-Hazy Museum (airandspace.si.edu/visit/udvar-hazy-center) is a short drive from the hotel. The tour will begin at 10:30 am and take approximately 90 minutes. Jim Shelton has two Blackbird buddies who have agreed to be our tour guides. I need to know how many are coming by June 17 so we can reserve our tour and guides. Of course, sooner would be better.
Thanks,
Cynthia DeCanio
_____________________________________________________________________________
From Heather Tatum
email - heather.tatum@yahoo.com
Details for the reunion were emailed a few days ago by Jeff Klinzing. Attached to the email is a document that needs to be mailed back stating who will be coming and will need to include a check for the Saturday dinner. Please let me know of there is anyone that did not receive it or needs a copy mailed. Thanks!
---
August 20, 2014
Hello Sirney Family member,
The 2015 Sirney reunion committee has been working hard to secure a location for our next reunion. The reunion is scheduled for the weekend of July 10, 11 and 12, 2015 at the Hyatt Regency in Reston, VA.
We are excited about this location near our nationís capital. Itís near Dullas Airport with a hotel shuttle to the airport; it is close to the new Silver line metro station into Washington, DC.; there are lots of shops and restaurants within walking distance of the hotel; and the hotel is close to Udvar Hazy (Smithsonian Air and Space Museum with the space shuttle, Concorde and our own Jim Sheltonís XR-71 Black Bird)
More details will follow but the basics are:
Date: July 10, 11 and 12, 2015
Place: Hyatt Regency, 1800 Presidents St, Reston, VA 20190
703 925-8233 Ė reservations
703 925-8244 Ė fax
Sirney family group room rate - $125.00/night + tax (currently 12%) for the Standard
room with 2 beds or one King size bed.
This hotel fills up fast. So even if you are not certain at this time that you can attend, we suggest that you still make room reservations now. Mention that you are with the Sirney Family Reunion. If you find that, sadly, you canít attend, you can cancel your reservation and we will miss you greatly.
We hope you can all come and explore all that our Nationís capital has to offer.
Cynthia Sirney DeCanio
Heather Tatum
Ellen Hawkins Flemma
---
9/23/2012
Hi Sirney Family Members: Start planning to attend the 2013 Sirney Family Reunion on June 28, 29 & 30, 2013 at the Four Pointes by Sheraton, San Diego, CA. WE have been given a rate of $109.00 + Bed Tax (12.5%) = $122.60 per night. There is talk that the Bed Tax may go to 14% which would raise the rate to $124.26. This rate is good for 3 days before and 3 days after the reunion dates, based on availability. Just get your reservations in early. You can go to their web site at <http://www.fourpoints.com/Sandiego>. I have asked them to hold 45 rooms until May 15, 2013.
Every room has TVs., Coffee maker, Refrigerator, Microwave and free WFI. They pro9vide complimentary round trip transportation to the San Diego International Airport (8 miles), San Diego Zoo (6 miles), Fashion Valley and Trolley (2.5 miles) and Sea World (7 miles).
We are planning some type of continental breakfast in the hospitality suite. We are looking at some type of Sandwich/Pizza gathering at the hospitality suite or on your own at some of the restaurants in the area for Friday night. We will have the formal (not formal dress) dinner on Saturday night at the hotel. We will be a barque by the swimming pool on Sunday starting at 2:00 PM put on by the hotel.
We will be sending out reminders every 3 or 4 months.
Regards Jim Shelton
---
Updated 06/20/2011
For those of you who can't make the reunion in Madison this year, we just wanted to ask you to send us any family info you might want to share--whether important or frivolous. E-mail will be fine. If you have some pictures too, we'd be thrilled. We want to show pictures in the community room and we'll download them to a disc.
Finally, we have an exciting raffle this year. Debbie has made a beautiful quilt even though she will be unable to join us. Sandi has embroidered a "12 days of Christmas" wall hanging. I will be auctioning 3 pieces of my pottery. So we thought we'd give all family members a chance to win these beautiful artworks. I'll be sending (via snail mail) this letter with some raffle tickets enclosed. If you are interested, just send them back with a check. You can even buy more, and we'll fill them out for you.
At $5.00 a ticket, it's a Sirney bargain.
Sorry you can't join us. See you at the next one.
Love,
Peggy, Jeff and Branda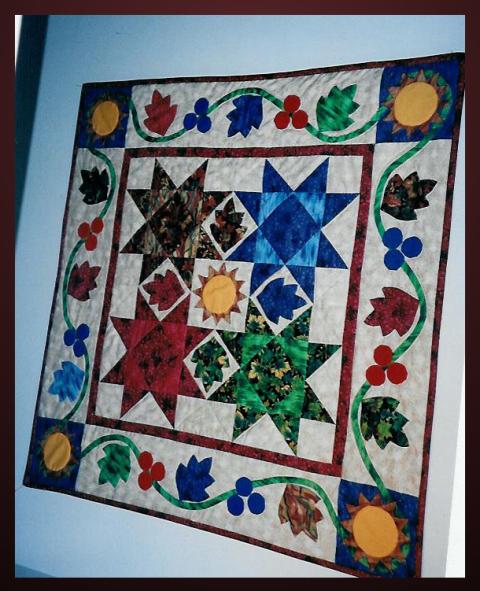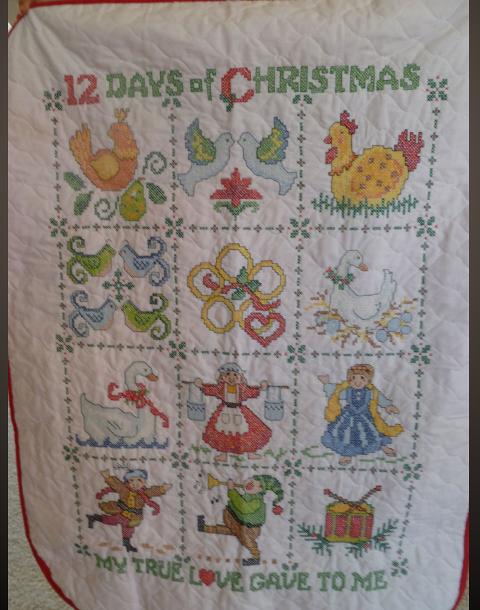 Debbie's quilt Sandi's hand stitching
---
Hello Sirney Family!
2011 has arrived so it's time to make plans to attend the 2011 Sirney Reunion!
The dates are Saturday July 2 through Monday July 4 in Madison, Wisconsin.
We've selected a hotel in Madison that has views of the State Capitol and one of the 4 lakes. The Concourse Hotel has a fantastic hospitality suite that we have reserved - there's a seating area, large table and a bar. Plenty of room for everyone to gather and share photos and stories. For room reservations call the Concourse Hotel at 1-800-356-8293, ask for Reservations and the block of rooms is under Sirney Family Reunion (if asked, our Reunion ID # is 108931). Rooms are $134 for 2 people. Please make your reservation by June 3!
Anyone arriving Friday or early Saturday morning should plan to join us at the Farmer's Market which is held every Saturday morning on the Capitol Square. It's more like a mini-festival with live music, artisan booths, bakery stands and of course farm stands.
We'll start off the reunion with the Family Dinner on Saturday July 2. We've found a fantastic space on the lakefront that will have a great view of Rhythm and Booms, the Midwest's largest Fourth of July (or in this case, July 2) fireworks display. We'll have the space to ourselves and will be able to run photo slideshows on the televisions.
Sunday, July 3 is reserved for exploring the city and surrounding area. Touring the State Capitol building, visiting Frank Lloyd Wright sites, golfing, the Wisconsin Dells (largest collection of water parks in the midwest), SummerFest (the world's largest music festival, 80 miles away, June 29-July 9), shopping on State Street, exploring the University of Wisconsin campus, playing at the Children's Museum, or getting an art fix at the Chazen Art Museum or the Madison Museum of Contemporary Art. We'll have suggestions for large groups to go to dinner together too. We'll have a scanner in the hospitality room so plan to bring along your photos to be scanned.
Monday, July 4 we're planning a brunch picnic at our home which is a 10 minute drive from the hotel and located on one of the 4 lakes.
We're excited for summer (especially with 2 feet of snow on the ground and sub-zero temps expected this weekend) and looking forward to showing you all our beautiful city. Below is a picture of downtown Madison. The Concourse Hotel and the location for the Family Dinner are both marked.
---
The cost for Saturday night Family dinner will be $38 for adults and $19 for kids 5-11 years. Sunday breakfast will be $15 for adults and $7.50 for kids 5-11 years.
Click here to see the letter regarding dinner and breakfast.
---
Here is a list of the people who have sent back their RSVP so far.
Highlighted names have paid and confirmed.
As of last count, we now have 98 attendees. Only 97 for dinner. Unfortunately, Ellen will only be with us until Saturday morning and Matthew and Lin have to leave Saturday also.
Debbie & Justin Marxen

Jeff & Linda Klinzing

Carrie, Marcus, Mason & Emerson Monnie

Jessica, Santiago, Anthony & Alexis Sierras

Alicia & Dave Stewart

Chris Stewart

Sandi & Bill Solyan

Beth Sanderson

Debbie, Dave, Michelle & Cole Montgomery

Don & Marie Sirney

Jennifer Sirney & Jason

Michael & Susan Gregory

Liz, Tom, Laura & Christine McMeekin

Bette Fusan & Fay Minge

Nick Klinzing & Sydnie Anderson

Cameron, Kelly, Jamison & Jocelyn Early

Cheryl & Justin Fincher

Connie & Don David

Ellen Flemma

Mike & Michelle Jones

Andrea, Bob, Cherilyn & John Teague & Josh Noack

Lindsay Culley & Dave Jahn

Barbara & Randy Bell

Uncle Rich & Aunt Lois Sirney

Tara, Bryan, Bryanna & Savannah Franks

Rick, Emily, Elizabeth, Robbie & Genny Sirney

Rob & Sandra Sirney

Linda, Jim & Katherine Martin

Claudia & Bill Cunerty

Angie & Katie Sanderson & Dan

Ron, Gloria & Chris Sirney

Mike & Michele Jones

Leah, Jeff, Megan & Sarah Garren

Liz, Tom, Laura & Christine McMeekin
---
12/29/08
We have picked the dates for the 2009 Sirney Family Reunion which will be held in Sacramento. The dates are July 9 - July 12, 2009. We will be using the Sacramento Double Tree Hotel which is an affiliate of Hilton. Click HERE to go to the hotel website to reserve your room.
We and I actually mean Alicia and Jessica, are still working on the Saturday night dinner and Sunday Brunch. You should receive a letter in the mail with most of the same information. If you would like to view the letter on-line, click HERE.
For the guys who will be golfing, I have found two good courses close by. Haggin Oaks Golf Course is only about 2-3 miles from the hotel. Ancil Hoffman Golf Course is a little further away, about 20 minutes. I have been told both are great courses. Here are the links to their websites: Haggin Oaks, Ancil Hoffman. Of course, if you would like to check out all the other course in the Sacramento area click on this link, it will take you to GolfLink.com.
Check back from time to time for more updates.
---
5-28-07
I received and forwarded a letter from Cathie regarding the cost for the Family dinner and Sunday Brunch. You should have received the letter attached to an email I sent out on 5-28-07. Please fill in, detach and mail the bottom of the letter to Cathie so she can get a head count for the dinner and brunch. Don't forgot to include your names and how you what them to be printed on your name tags. Please get your checks sent in to her soon.
Click here to read the letter.
---
Updated 3-4-07
Cathie has sent me a copy of a letter that she has sent out or is going to shortly regarding the 2007 Family Reunion. I'm not sure if anyone with email will receive it or not. Click HERE to read the letter. Please, Please pass on any of this information to anyone family member you know who does not have email. We need to make sure this information gets out to everyone.
Here are some links to Jekyll Island. Check them out.
http://jekyllisland.com/index.asp
http://jekyllisland.com/overview_golf.asp
http://jekyllisland.com/overview_history.asp
http://www.buccaneerbeachresort.com/map.htm - Driving directions to the resort.
---
The dates for the Family Reunion have been changed due to the fact that the original weekend chosen was just before the 4th of July. We didn't want to interrupt any plans you may have with other family and/or friends for the weekend before and the week of the 4th.
The new dates are June 21st thru June 25th and we have had a price reduction----Island side guest rooms and efficiencies are $98.00 (old price $109.00) and the Oceanside guest room and efficiencies are $116.00 (old price $134.00). Also available are 2 junior suites at $143.00, 1 two bedroom at $229.00, and 1 three bedroom at $299.00. Reservation deadline is May 27th to guarantee price. The toll free number is 1-877-842-3224.
Updated 9-7-06
We are officially booked for the Sirney family Reunion 2007 at The Buccaneer Beach Resort, Jekyll Island, Georgia. The dates I have reserved are 6/28/2007(Thursday) thru 7/2/2007(Monday). Prices range from $109.00 to $134.00, depending on Island side or Ocean front rooms. They have standard rooms as well as efficiencies. They also have 1 one bedroom, 1 two bedroom, and 1 three bedroom. The Buccaneer was damaged by last years hurricanes. It is under new ownership and is under repair and clean-up. Their official web site is, www.buccaneerbeachresort.com. The Buccaneer is on the south east end of the island and there is a RV park on the north east end of the island.
**Cathie has promised me an update sometime soon.**
If you aren't aware, Cathy and Spud Tatum are your Hosts for the 2007 Sirney Family Reunion. The reunion will be held on Jekyll Island which is in the Southeast portion of the state of Georgia. We have been told it is an extremely beautiful place for a visit and/or a family reunion. As of now, the dates will be June 22-24, 2007 so put these dates aside and get your families there.
If you haven't been to one of our fun filled Reunions, you don't know what you are missing. I finally got myself to my first reunion which was in Winter Park, Colorado. I was so glad I finally made it. Unfortunately, I missed the next one that was in Washington state. I have made the last two and am extremely glad I did.
You will reacquaint yourself with relatives you haven't seen in days, months or years. You will also meet so many that you probably didn't even know you had.
I am going to be putting together a slide type show for viewing at the 2007 Reunion. It will be on a continuous loop and will be shown in the room where the Family Dinner will be consumed. It may also be shown in the Hospitality Suite.
What I am looking for are old, new and any photos in between. I want to show kind of a progression of the Sirney family from the beginning to the present. Obviously I will have to really edit it or it would last for at least the entire weekend.
I would like to include any new marriages and births. I also want to include a section on all family members who have passed on. For this first show, I want to include all family members who have passed on.
Please include any and all dates with all of the photos.
Now if I have the correct Island, visit their website to see all of the attractions and amenities.
---
My sister Alicia Stewart, her daughter Jessica Sierras and I will be hosting the 2009 Reunion on the west coast. We got roped into it by my lovely cousin Debbie Marxen. Actually, I had been thinking about hosting one. I'm not quite sure where it will be yet but I am kind of leaning towards the Napa Valley. We haven't ruled out the Lake Tahoe area yet either. For that matter, everywhere is up for grabs.
Well, I think Alicia and I have narrowed down the location. If all works out, it just might possibly be held in Old Sacramento near the water front. I'll keep you posted.