<![if !vml]>

<![endif]>
---
---
[ Home ] [ Address Book ] [ Birthdays/Anniversaries ] [ Debbie's Quilts ] [ Family Reunion Photos ] [ Family News] [ Family Tree ] [ Flower Girls ] [ Guestbook ] [ Links ] [ Mini Reunions ] [ Misc Photos ] [ New Babies ] [ Old Photos ] [ Reunion News ] [ Sirney History ] [ Svetlana ]
---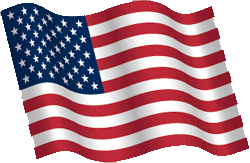 ---
Two Platters Peggy has made for the raffle.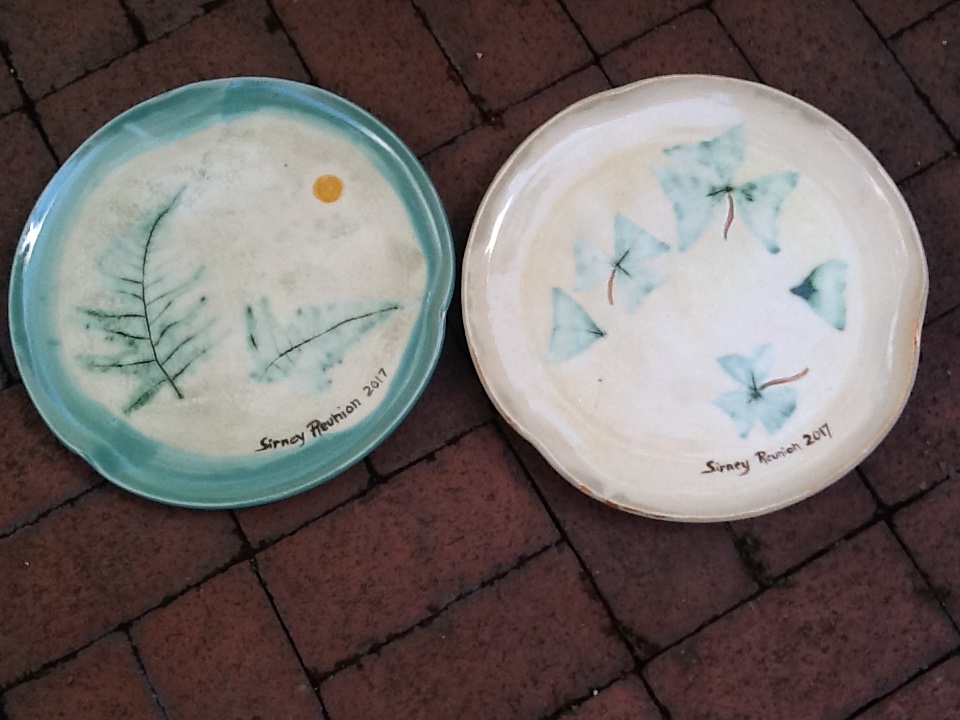 Sirney Family Quilts that will be raffled off at the Reunion.
From Debbie Marxen:

I guess you can say it is a family antique because I made it for my mom, Jeanne Elizabeth Sirney, for Mothers Day in 1997! That was along time ago! 20 years! I thought it would be a nice keepsake to pass down in the family!

This one is from Sandi Solyan
---
2017 Sirney Summer Camp
Here is the information needed to attend the reunion next year.
**Please Note**
We have already booked all of the cabins at Kohl's Ranch Lodge except for one of the 2 bedroom cabins. There are still studios available, but these only sleep 2 people. However, we still have plenty of accommodations for more than 2 people at Christopher Creek Lodge. If you only have 2 people in your party, please book a studio at Kohl's Ranch so that we can leave plenty of availability for families with more than 2 people.
Again, Christopher Creek Lodge is just a few miles up the road and offers very nice accommodations in a lovely setting along the creek. We hope that this does not seem like an inconvenience to anyone. These rooms will really just be for sleeping and we can all be together during the day at Kohl's Ranch. I have attached a few pictures of Christopher Creek Lodge.
Provided below is all of the information that you should need to begin booking your accommodations for Sirney Summer Camp. Again, our main location for activities and meals will be Kohl's Ranch Lodge, with additional lodging at nearby Christopher Creek Lodge. Our group rates are valid for the nights of Thurs June 22- Sun. June 25th. If you would like to stay additional nights, please let me know and I will see about getting you the group rate for those nights as well.
I would advise making your reservations early. Both lodges do allow for cancellations- up until 48 hours ahead of time at Kohl's Ranch and 30 days ahead at Christopher Creek (if cancelled between 15-29 days ahead of time, you can receive a refund minus a 10% fee. no cancellations within 15 days of arrival).
For flight arrangements, you will want to fly into Phoenix Sky Harbor Airport. From there, it is around an hour and forty five minute drive. Depending on where you are flying in from, you may also want to look at flights on Allegiant Air into Phoenix-Mesa Gateway Airport.
We are planning group meals for Friday and Saturday night dinner, a picnic lunch on Saturday, as well as a brunch on Sunday. Saturday will be a fun day of games & activities for both kids and adults, as well as lots of time to visit and reconnect. For that reason, I would recommend planning other excursions for before you arrive on Friday or after leaving on Sunday. There are ideas for other things you may want to check out in the area on this site - http://www.paysonrimcountry.com/top-35-things-to-do.
Booking Info for Kohl's Ranch Lodge (the easiest way to book is using the online link):
Studio Guest Rooms
Located in the main building. All units
have a small refrigerator, coffee maker,
and microwave. Sleeps 2. $108 per night
*

Please provide your guests the following ways to start booking their reservations today

:

1) Personalized booking link: https://www.diamondresortsandhotels.com/?MKC=GSIRFAM17

2) Reservation Department: 1-800-438-2929

3) E-mail: Groups@diamondresorts.com

For reference:

Property: Kohlís Ranch Lodge

Your Group Name is: Sirney Family Reunion

For reference:

Property: Kohlís Ranch Lodge

Your Group Name is: Sirney Family Reunion

Your Block Code is: GSIRFAM17

Cutoff date: 5/22/17

*Quoted rates do not include 6.325% tax, daily resort fee of $10+tax or the $100 refundable incidental deposit (collected at check-in)
It is imperative that you take a moment and share all of the below policies and information with your group guests.
Group Concessions
Check-in is at 4pm and check-out is at 10am. If any guest requires a guaranteed early check in, they must also book the day before their expected arrival
48 Hour Cancellation Policy: We must be contacted 48 hours prior to your scheduled arrival to cancel or modify your reservation to avoid a first nightís room and tax penalty
No deposit is required; full payment is due at check in
Each guest room is required to have one adult (21 years of age or older) check-in and occupy the room throughout entire stay. They are also required to present a credit card and ID upon arrival
Any special request you may have will be noted to your reservation but cannot be guaranteed
Daily housekeeping is not available; however, towels and tidies are available upon request at the front desk
Any unused group inventory will be released on cutoff date 5/22/17. After this date, reservations are subject to availability. If available, we will continue to honor the group discounted group rates
Booking info for Christopher Creek Lodge:
Rooms may only be booked by calling the reservation line at 928-478-4300 and state that you are with the Sirney Family Reunion.
Motel-Style Rooms
Sleeps 4. Queen bed downstairs and
two twin beds in the loft. No kitchen
amenities except for a coffee maker.
$89.99 per night.
Fishermanís Cabins on the Creek
Sleeps 6. All units have a kitchen and
fireplace. Queen bed downstairs, 4
twin beds in loft. $159.99 per night.
Pioneer's Cabins on the Creek
Sleeps 6. All units have a kitchen and
fireplace. King bed downstairs, 4 twin
beds in loft. $179.99 per night.
Please let me know if you have any questions on anything. Cheryl would be happy to help!
---
I have added a Guestbook for everyone to sign. Let me know if you like it or not.
You will be able to leave a message on it and everyone will be able to read what you wrote.
Just click on the Guestbook link above.
---
The Family Trees have been updated with the information I received at the Virginia reunion.
I have also added my photos that I took. Click on the "Family Reunion Photos" link above for all photos.
---
Please check the Reunion News page for information on the 2015 family reunion in Reston, VA.
---
Check the Family News page for an update on Cathie Tatum
I will be adding the updates as Spud sends them out.
---
The Address book and Birthdays/Anniversaries pages password are now password protected.
If you want to get into either page, send me and email and I will send you the username and password
---
06/05/2017
I have updated the Family Tree page. All of the information is now in PDF format and hopefully easier to read. There are three reports to view, the first is the Descendant report of John P Sirney. The second is an outline of the Descendant report. The last is a list of all of the marriages in the family.
As always, if you find that I have left someone or something out or made a mistake, please let me know and I will be most happy to make the correction(s).
---
Check out the Reunion News page for photos of the two quilts Debbie Marxen and Sandi Solyan made by hand.
---
Karen Schwarz's daughter and son-in-law (I hope I got that right) have a quaint lodge in Lewiston, MI. It is on a right on a lake and really reasonably priced. If you ever have a chance to get up that way, make reservations and stay there. I have included a link on the Links page or just click here to go to there website. From what I saw on the web, it looks really nice.
---
Welcome to the Sirney Family website. I (Jeff Klinzing, 3rd Generation Cousin) put this website together to spread information regarding future Sirney Reunions and any other information that the Sirney family might like to hear. If there is any information you would like to share, just send me an email containing the information and I will add it.
I have included photographs of past Reunions, old photos, miscellaneous photos and photos that other family members wanted to share. If you have any photos you would like to share with the Family, please scan them and email them to me. You can also do as Aunt Lois did and have them put on a CD and mail them.
There is an Address Book that is password protected so outsiders can't get your information. If you would like to have the User name and Password, just ask and ye shall receive.
For those of you who have or will be putting your weekend photos on your own website and you would like to share them with the rest of the family, all you need to do is send me the URL or web address where they are and I will add a link. The more photos the better.
I would like to keep the entire Sirney family informed of any important events that occur. In other words if someone gets married, has a baby or two or any other life altering event and you would like to share, let me know. If you send me pictures of the event, I would be more than happy to add them, with their own page, to the site.
If you see any photos you would like copies of, you can copy it to your computer and print it.
---
[ Home ] [ Address Book ] [ Birthdays/Anniversaries ] [ Debbie's Quilts ] [ Family Reunion Photos ] [ Family News] [ Family Tree ] [ Flower Girls ] [ Guestbook ] [ Links ] [ Mini Reunions ] [ Misc Photos ] [ New Babies ] [ Old Photos ] [ Reunion News ] [ Sirney History ] [ Svetlana ]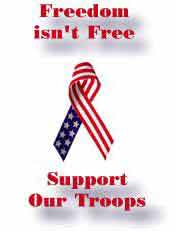 Updated 06/05/2017

To contact the webmaster, click here.